This week's meme from the Broke and the Bookish focuses on ten authors or books in a genre of our choosing. So for this Top Ten Tuesday, I wanted to share some of my underrated picks from the romance genre. Romance novels have a stigma that I've never understood: sure there are some hellaciously bad ones but the same can be said of straight fiction and you don't see me turning my nose up at an entire genre because of it.
Anyway, as I climb down off that soapbox, I'd love to tell you about some of my favorite underrated romance novels. I haven't heard many people talking about these of late, possibly because they're not super recent releases but these are all books I would recommend if you're looking for a weekend romantic read.
*As usual, all links lead to Goodreads*
I feel like I talk about this book a lot, though maybe not here. I found Hull's infamous novel at a small bookstore that had it on display claiming it as one of the first romance novels ever. That combined with the fact that this novel inspired the Rudolph Valentino short film that cemented his career as a sex symbol made me pick up The Sheik. It's not a perfect novel by any means but if you enjoyed Fifty Shades of Grey, then this novel is about fifty times better than that. And Diana, the heroine, is significantly more feisty and hates her love interest for a significant portion of the book so the emotional drama is more satisfying too.
2. Mona Lisa Awakening by Sunny
This one gets its spot on this list because for so long I dismissed this book when I passed it on the shelves for one reason or another. When I actually read Mona Lisa Awakening I quite enjoyed it. Not my favorite series of all time but it was full of intriguing characters and concepts, so I'd happily return to the series. Compared to, say, The Merry Gentry series, this novel gets underrated but if that's your kind of romance read, give this book a whirl.
3. Date Me, Baby, One More Time by Stephanie Rowe
I had forgotten how much I adored this novel until I went combing through my virtual shelves to write this post. A wonderful paranormal series with quirky humor and great character building. Kind of like a lighter version of "Buffy the Vampire Slayer" in book form. Same brooding romance. Same level of puns and pop culture references. Not enough love for this book and its three follow-ups. All are solid. Read them.
4. Crimson Kiss by Trisha Baker
This is another book I feel as though I talk about a lot. Baker straddles the line between romance and horror with the strange love affair of Meghann and Simon, because frankly Simon's psychotic and you're rooting for Maggie to kick his ass the whole time. It's their journey through the series as a whole that becomes more about the romance. Baker is reportedly reissuing her novels–YAY–since they were out of print and is also adding to the series. So now is a good time to check out the Crimson books if you're interested in a more horror-driven romance read.
5. Bond of Blood by Diane Whiteside
Two words: vampire cowboys. Maybe not for everyone, but why not combine two of the most sexy romantic character tropes to great effect? Another solid series that just isn't talked about enough for my liking. Whiteside does a great job of weaving the books' stories and characters together in a way that feels fluid, which is always satisfying for a series reader.
6. Private Pleasures by Bertrice Small
One of Small's only contemporary romance series, which is why I think it gets a bit overshadowed. Really interesting concept though: women can tune in to "the channel" which allows them to live out their sexual fantasies with no repercussions. Of course, there are real life heroes for the women to fall in love with, and there is a darker side to "the channel" that develops throughout the series, which is interesting.
7. The Demon's Daughter by Emma Holly
I adore Emma Holly as a general rule, but my favorite of her series are the ones set in this demon world. The demons, or Yama, have futuristic technology but have a very Victorian class system in place. It's a hard system to explain without going into depth or getting rather steamy, so I'll leave it with when humans and Yama interact, good things happen.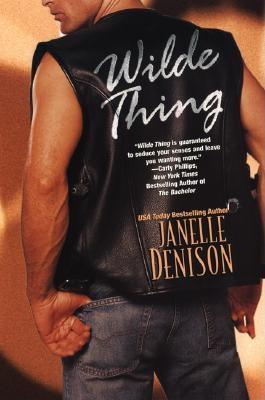 8. Wilde Thing by Janelle Denison
When I first started getting into romance novels, this was one of my first reads. And it still stays with me. Bad-boy P.I. helps feisty barista traverse the world of high-class escorts to find a missing cousin. I do realize how ridiculous that sounds all together, but, holy cow, is it so much better than that. There's a whole Wilde series, but this first one is honestly the best of the bunch.
9. The Royal Treatment  by MaryJanice Davidson
Set in a world where everything is the same as ours, except for the fact that Alaska is its own country with a royal family. Imagine all the quirk and verve Mia Thermopolis would have as an adult and that is stranded American tourist Christina Krabbe, who gets handpicked by the King as a fit mate for Prince David. Laugh out loud funny and just the right amount of sexy.
10. Nerd in Shining Armor by Vicki Lewis Thompson
If you have one last beach weekend, take this book with you. The premise is somewhat ludicrous but the writing and the characters make up for it 100%. Genevieve has a crush on her sexy boss and it seems like a dream come true when he invites her to Maui for the weekend. But then the plane crashes, her boss mysteriously disappears, and Genevieve is left stranded on an island with the firm's IT guy, Jack. Sparks fly and suddenly being stranded isn't such a bad thing. Really cute little book that doesn't get talked about often enough.
Have you read any of these? What do you think? Underrated or overrated?